Kummooyeh (Sword & Archery)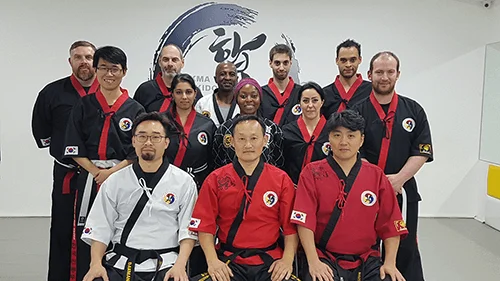 Kummooyeh is an authentic Korean swordsmanship style with a traditional archery. It is composed of various types of training including meditation, basic swords movements, patterns, cutting, sparring techniques and Korean traditional archery.

Kummooyeh classes are available for different age group and levels
- Junior class (age 10 – 15)
- Adult class (age 15+)
Sword Pattern
Sword forms are a core element of our Kummooyeh training, teaching practitioners many of necessary skills needed in fighting (sparring). Through various patterns, a practitioner develops and improves his/her discipline, focus, endurance and strength. The pattern training is essential to improve other sword skills including cutting and sparring.

Cutting
The theory and practice of the swordsmanship is harmonized in cutting. It requires speed, accuracy, strength, right footwork and concentration. Cutting is the Art of Swordsmanship in practice.

Sparring
Sparring is the application of all sword practice, against one or multiple opponents. With appropriate protection equipment and safe training facilities, a practitioner can participate in sparring without risk of injury. All elements of Kummooyeh training is applied for practical and effective sparring. Speed, quick response, accuracy, mental and physical control are required.

Korean Traditional Archery
Korean traditional archery is a unique form of archery practiced in Korea for hundreds of years. It is the result of many unique individual warriors' influences which has evolved and developed throughout the country's history. Nowadays Korean traditional archery is practiced as a martial art primarily for mental training rather than focusing on practical use for hunting or as a combat weapon.

Meditation
Taught as a pattern of breathing exercise and control, a practitioner will cleanse and empty his/her mind from all sorts of stress, negative thoughts and mental troubles. Starting with sitting meditation, advances to the practice of Kicheon, a form of moving meditation, where a practitioner develops a physical and mental strength and health overcoming inner hardship.
Our Location
59 Central Road
Worcester Park
Surrey, KT4 8EB
United Kingdom
Hours
Monday-Friday: 3:30PM-10:00PM
Saturday: 9:30AM-4:00PM
Sunday: 9:30AM-10:00PM
© Copyright 2023 SKMA LIMITED - All Rights Reserved